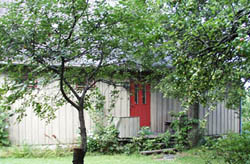 EIVIND GROVEN'S ORGAN HOUSE
In 1971 Eivind Groven built a house dedicated to the just intonation organs next to his home at Ekeberg in Oslo. It is similar in style to the two other houses on the property.
The "Orgelhuset" ("Organ house") was Eivind Groven's work space during the last years of his life. Today it is taken care of by the organisation "Eivind Grovens institutt for renstemming" ("Eivind Groven's institute for just intonation"), which strives to promote Groven's music, the just intonation organs and his other achievements.
Welcomes interest
"Orgelhuset" welcomes everybody interested in Eivind Groven's music, the just intonation organs, or Norwegian folk music. Visitors are given a guided tour/lecture adapted to their interest. The main attraction is the just intonation pipe organ from 1953 and the two electronic organs.
Open by appointment
We charge a small entrance fee to cover expences. The amount is NOK 30,- per person, NOK 300,- for groups of 11 - 30 and NOK 500,- for groups of 31 - 50.
Please contact Dagne Groven Myhren (Phone +47 22 67 91 23, epost d.g.myhren@inl.uio.no), to schedule an appointment.
Location
Ekebergvn. 59 (entrance from Røhrtsvei 2), 1181 OSLO
Driving instructions: drive to Ekeberg camping, where there are parking spaces available.

Public transport: bus route 34a, 34b or 46 from Oslo Railway Station for about 8 minutes, until the bus stop named Ekeberg Camping.
From Ekeberg Camping: Walk down the Ekebergveien towards the city. This road begins just opposite the camping site entrance and is blocked against drive-through with massive stones.
150 meters downhill you will find an old fruit garden on your left. Inside the garden is the Organ House.
Events, concerts, demonstrations
The Organ House regularly arranges concerts and demonstrations of the just intonation organs and other culture events.
All events are public and announced in the press and in invitations.
Eivind Grovens institutt for renstemming
v/Dagne Groven Myhren
Phone: 22 67 91 23
Visitor's address: Ekebergvn. 59
Visits by appointment only